Who this course is for...
This course has been carefully designed for people who...
Want to implement their KPIs rapidly, with pre-built definitions and tools
Need their KPIs to be tailored to their business
Like a structured, logical approach
If you manage a small business, this approach should be perfect for you.
This is a 'do it yourself' kit, but you can easily get access to premium support time from our team if you need some practical support.
Confession of a small business owner...
I founded my KPI consulting business, Made to Measure KPIs, in 2007. It is a business focused entirely on coming up with meaningful performance measures for all kinds of organisations, from global banks, food manufacturers through to churches. I have spoken at international conferences and written books on KPIs, but for a long, long time I didn't measure anything in my own business: nothing at all. I was like the cobbler whose children went barefoot. I worked with a wide range of brand-name businesses, helping them put the right performance measures in place, but had almost nothing written down about how my own business was performing, or even what its objectives were.
What I did have was a long list of things that I felt I should be doing swirling around my head. My days were filled with the simple goals of making money and growing the business. All the time, there was one nagging, guilty thought... 'I really should measure more things in my business'.
Eventually, I realised this situation was stupid and embarrassing. It was time to sort out my own KPIs. This course and the ROKS Express methodology are the product of that journey. I hope you can join me on KPI Bootcamp and transform your business into the one you always dreamed of.
Bernie
Founder: Made To Measure KPIs And KPI Academy
What's included with KPI Bootcamp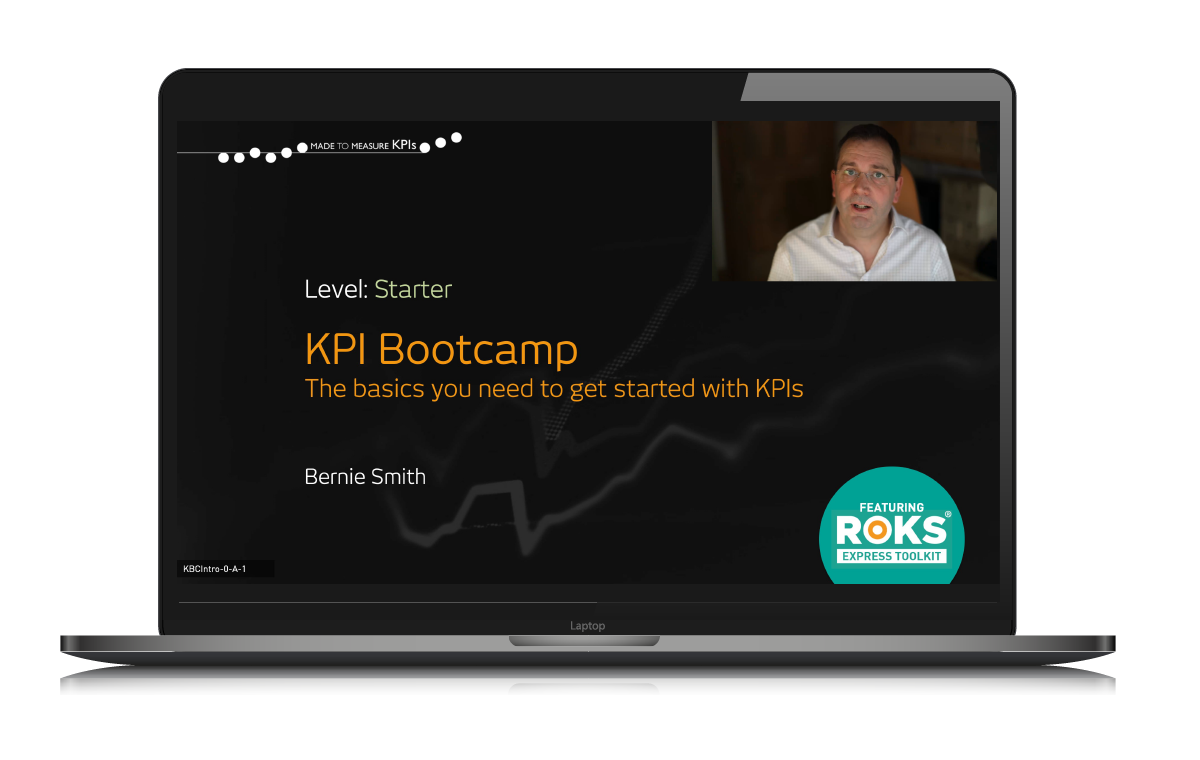 High-quality KPI training
5 hours 15 minutes of high-quality KPI training, all delivered by best-selling KPI author, speaker and trainer, Bernie Smith. The training is split into bite-sized chunks, so you can easily progress at your own pace.
Complete KPI Definitions Manual
The KPI Definitions Manual is a PDF download with 412 full KPI definitions, clearly explained and illustrated with worked examples. The definitions are carefully organised in line with the ROKS Express 'Traits' approach, clearly explained in the course, making finding the relevant KPIs quick and easy. This eBook is exclusive to our online courses. Check out these sample pages...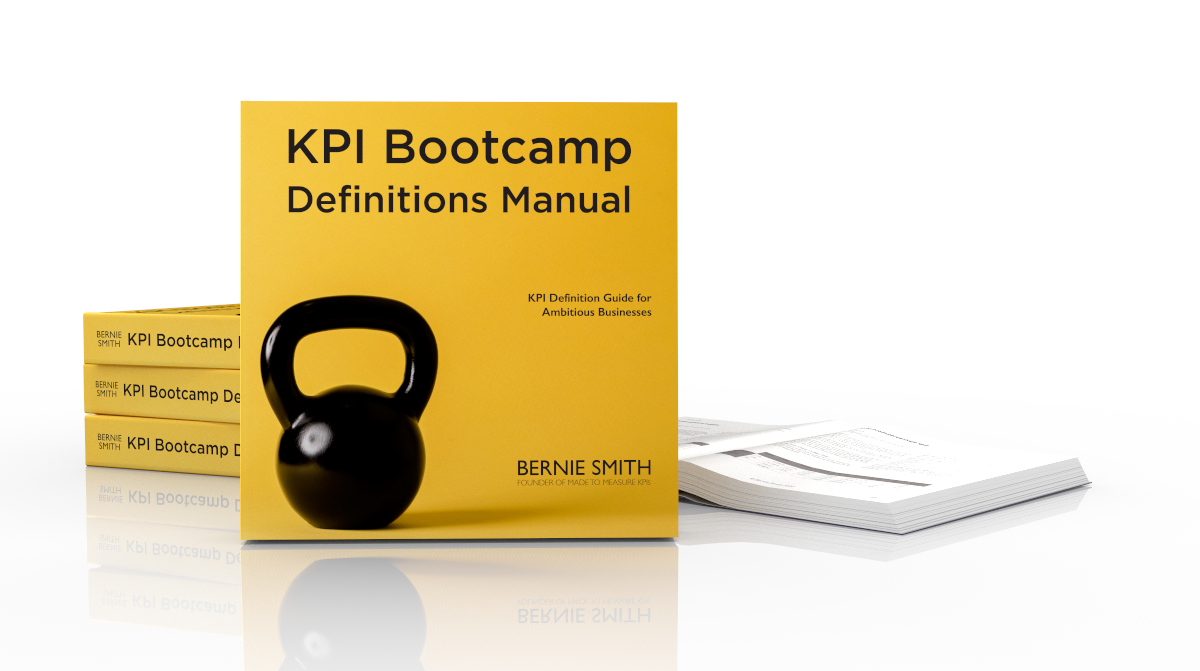 Clear, consistent KPI definitions...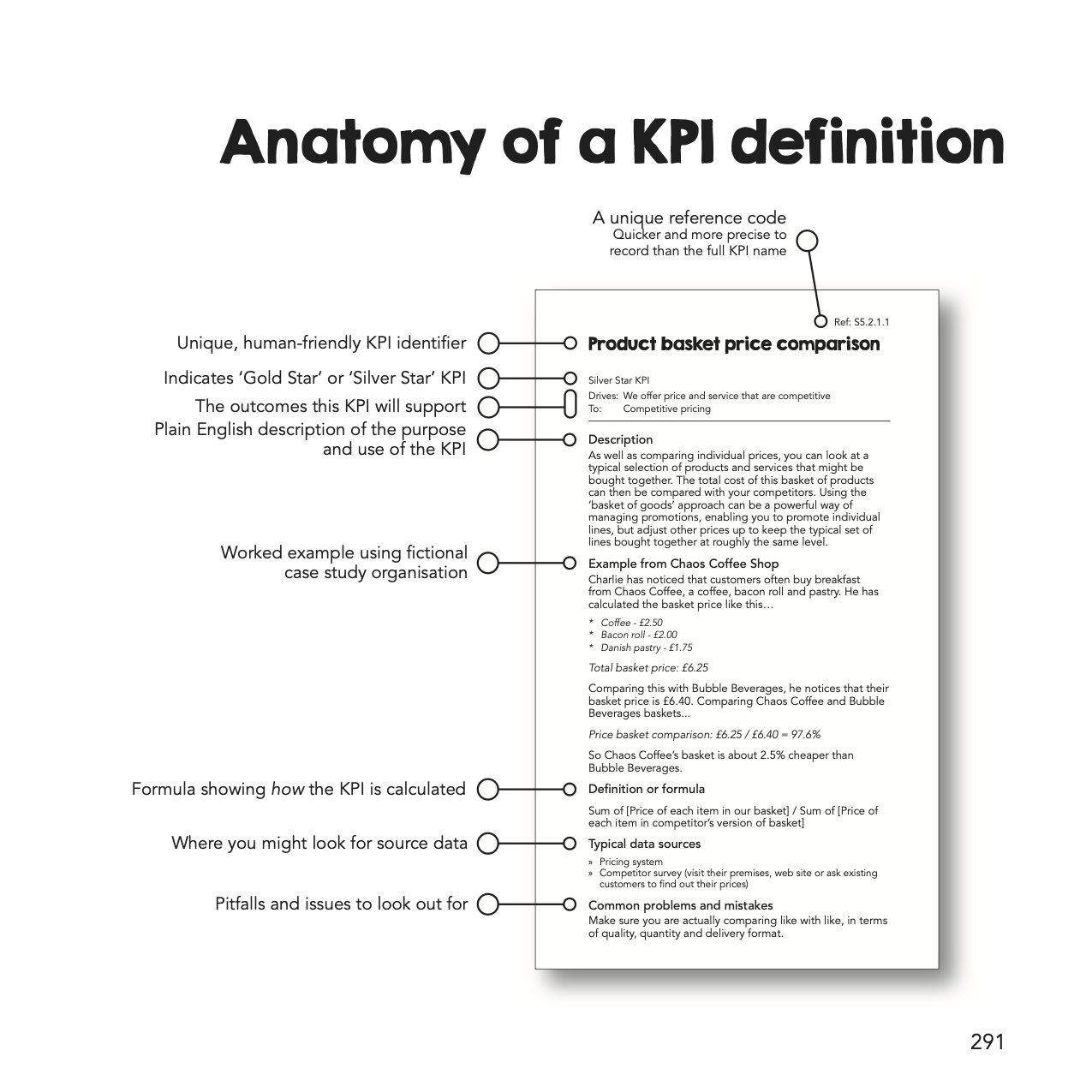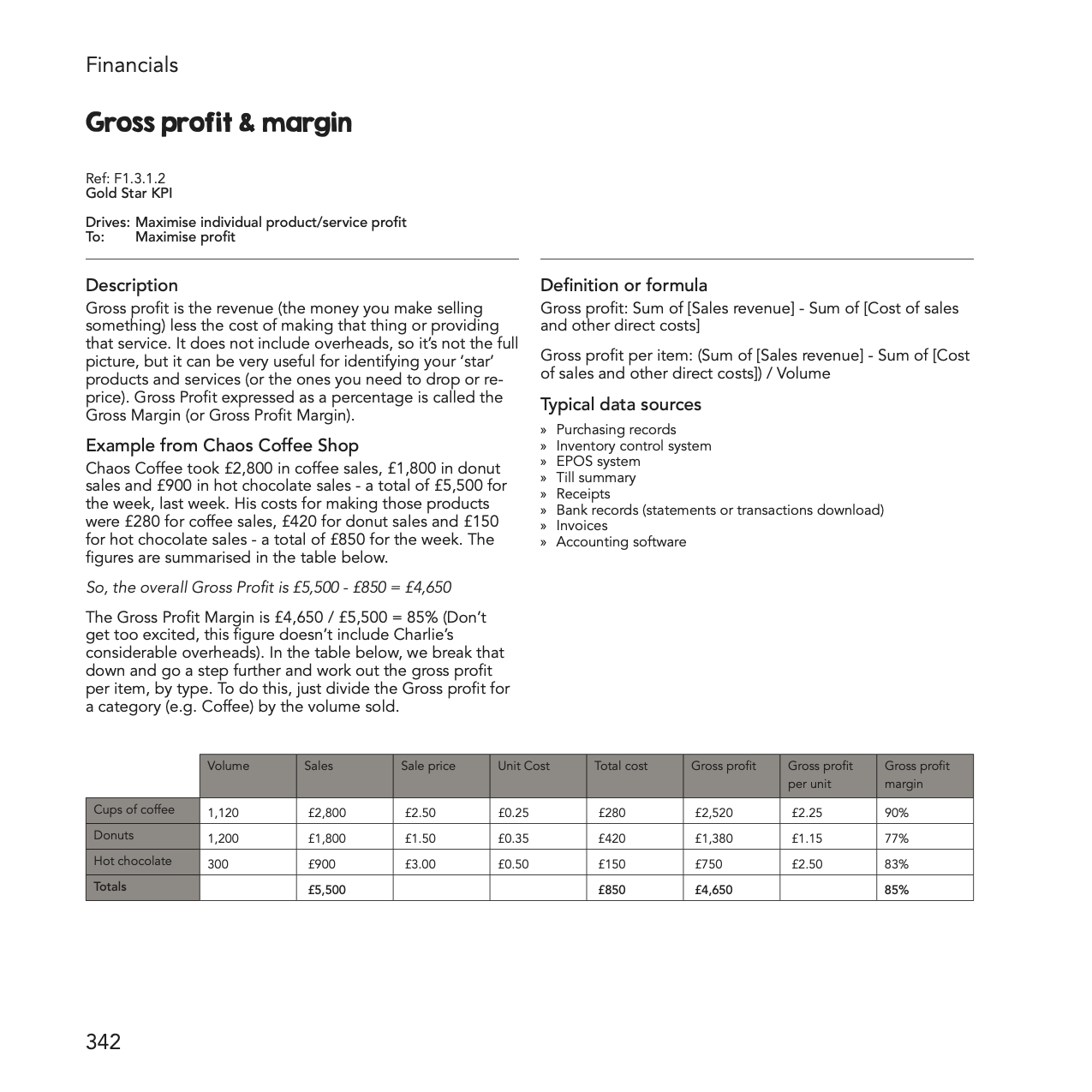 More complex KPIs are defined with worked examples...
The manual: part of a carefully designed system
Having all your foundation KPIs in one carefully designed source avoids the common problems that come from 'mix and match' approaches (for example: Googling, using existing KPI and competitor performance measures)...
Differences in terminology and structure
Overlapping KPI scopes
Incorrect definitions
Gaps and omissions
Confusion
This is a book you will keep going back to as your business grows and evolves.
Crystal-clear templates and printable cheatsheets
Quick-reference cheatsheets, templates and tools are included for you to download. Here's the full list...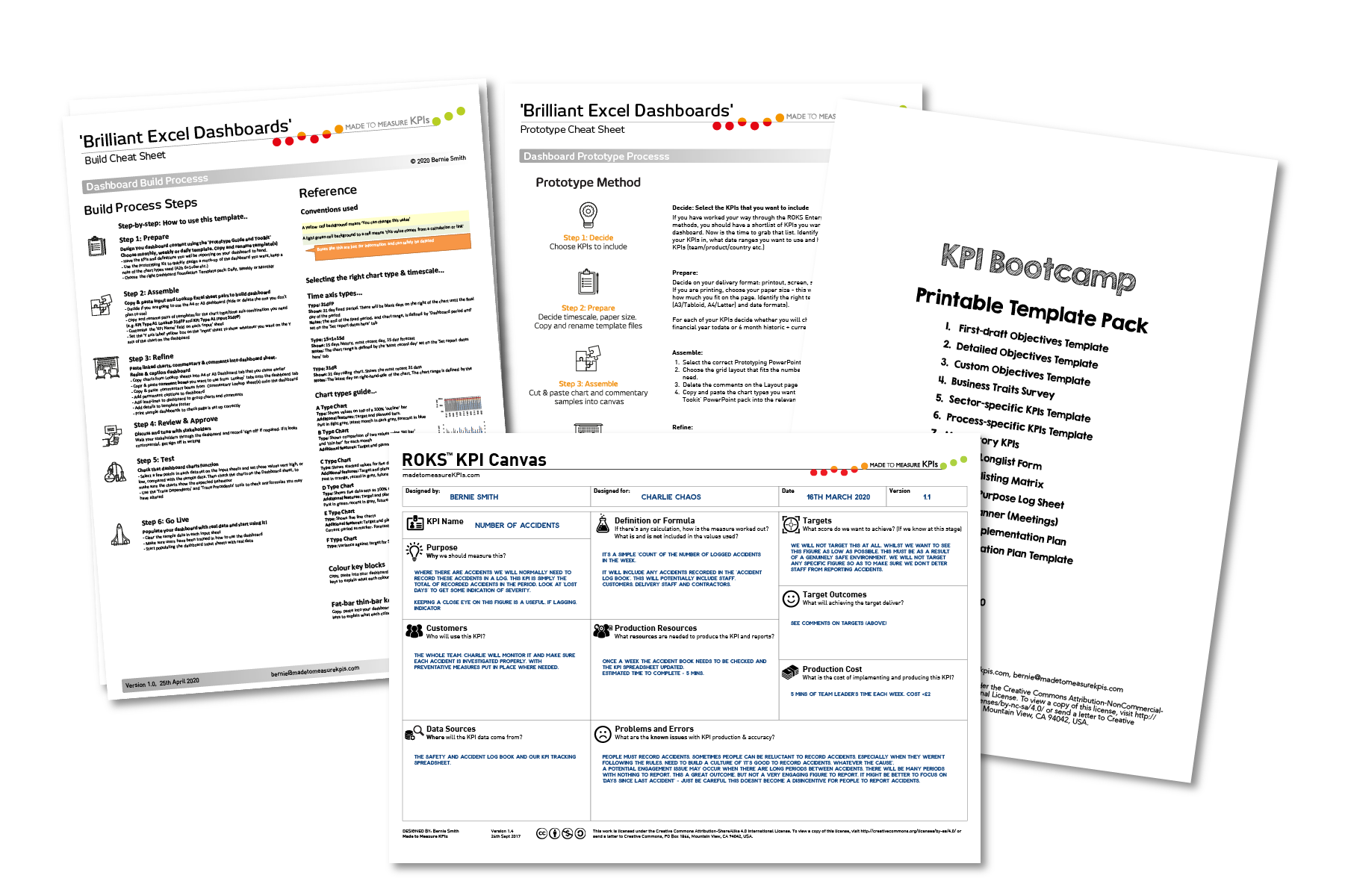 Full list of included books and templates
Cheatsheets
ROKS Express Process Cheatsheet
Dashboard Design Cheatsheet
Report Design Checklist
Brilliant Excel Dashboards: Build and Prototype Cheatsheets
KPI Bootcamp printable template pack - 13 templates
First-draft Objectives Template
Detailed Objectives Template
Custom Objectives Template
Business Traits Survey
Sector-specific KPIs Template
Process-specific KPIs Template
Mandatory KPIs
Manual Longlist Form
KPI Shortlisting Matrix
General Purpose Log Sheet
KPI Use Planner (Meetings)
Sample Implementation Plan
Implementation Plan Template
ROKS KPI Canvas template
Printable PDF version
Excel 'visual' version for population
Complete with worked case-study example
An Excel tabular form of the ROKS KPI Canvas for convenient definition management of multiple KPIs
Complete 'Brilliant Excel Dashboards Kit"
This course includes the full 'Brilliant Excel Dashboard Kit' - normal price £299.
The template kit enables you to create profession-looking dashboard prototypes in minutes. By using the pre-built chart and commentary designs in the Prototyping Guide and Toolkit, you can be confident that the final approved designs will be perfectly compatible with the Excel Template Foundation Pack (included). This pack enables you to build fantastic, easy-to-understand working Excel dashboards at least five times quicker than building a dashboard from scratch.
The finished dashboards don't just look fantastic, they are designed from the ground-up using BlinkReporting method of chart design to give the reader the most rapid possible understanding of the information within the dashboard. The BlinkReporting approach applies cognitive-science-based design approach in an easy-to-use package. (Check out the Brilliant Excel Dashboards Manual for the inside track on this.)
The pack includes...
The Brilliant Excel Dashboard Manual
A non-nonsense 88 page guide the theory and practice of designing and building easy-to-understand dashboards and reports.
Expertly designed Prototyping & Build Templates
Prototyping Guide and Toolkit (PowerPoint)
Prototyping A4 Canvas (PowerPoint)
Prototyping A3 Canvas (PowerPoint)
Prototyping Letter Canvas (PowerPoint)
Prototyping Tabloid/Ledger Canvas (PowerPoint)
And...
Six high-quality Excel dashboard template kits (as .XLSX files*)
Monthly Dashboard Template Foundation pack - UK date format
Weekly Dashboard Template Foundation pack - UK date format
Daily Dashboard Template Foundation pack - UK date format
Monthly Dashboard Template Foundation pack - US date format
Weekly Dashboard Template Foundation pack - US date format
Daily Dashboard Template Foundation pack - US date format
*All templates require Microsoft Office 2016 or later
Includes full user guide in workbook.
Visual Report and Dashboard Design Checklist
A simple Excel-based checklist to make sure you have covered the major design considerations on your dashboard and report designs
Brilliant Excel Dashboards 'Build' Cheatsheet
A visual cheat-sheet covering the 'Brilliant Excel Dashboards' Build process using simple steps and easy to read instructions.
Brilliant Excel Dashboards 'Prototype' Cheatsheet
A visual cheat-sheet covering the 'Brilliant Excel Dashboards' Prototype process using simple steps and easy to read instructions.
A lightning start, using the tool you already have: Excel
About your trainer: Bernie Smith
Bernie is a highly experienced performance measurement consultant, trainer, speaker and best-selling KPI author. Convinced that there are many lifetimes of terrible KPIs that need fixing, his mission is to share sensible, easy to understand methods with as many people as possible to improve the quality of managing information being used around the world.
His ideas have shaped the world of performance measurement and can often be seen referenced, reused and rebadged by others in the field!
Here are some of his clients...
Course Certification
When you complete your course , you will be sent a personalised and numbered 'KPI Bootcamp Professional' certificate you can use to tell others about your KPI skills.
Frequently Asked Questions


Are the videos subtitled (close captions)?
Yes, all video modules have English subtitles.
What IT do I need to take part in the course?
To take part in the sessions you will need...
A computer (either a PC or Mac is fine)
A decent internet connection (good enough for a stable
PDF viewing software (for example Adobe's free Acrobat Reader, Apple's Preview or Window's PDF Reader)
Can I download the videos?
For copyright protection the videos can only be viewed through your KPI Academy account.

Does Bernie do consulting, in-house training and custom training?
Absolutely! Get in touch using https://calendly.com/bernie-smith/introductory-conversation to set up a free introductory call to explore the options.
What if I find the course is not for me?
If you decide that the course is not for you, and you have not completed more than 20% of the course, then you can contact us for a cheerful full refund of your course fees.

What certificate do I receive on graduation?
When you have graduated you will received...
Am I free to use the course materials in my organisation or with clients?
We want you to use your training and course materials to succeed. However, there are some reasonable restrictions on use, these are clearly and simply laid out on this page: https://kpi.academy/p/ip-acceptable-usage