Game-changing measures may be closer than you think...

Why attempt to measure the impossible?
Gain an unfair advantage
Being able to measure something that none of your competitors can measure can give you such a head start it feels like cheating.

Get ahead of the game
Act early by harnessing leading indictors, rather than reacting to lagging indications when it's too late.

Reduce effort and complexity
Reduce effort, complexity and delay from your data gathering and analysis by using clever short cuts and alternatives to 'brute force' measurement.
This course gives shows you three powerful techniques that should make [almost] anything measurable.

Who this course is for...
People who...

Are tasked with creating new, effective, performance measures or KPIs but are finding it tough to figure out how
Are looking to identify powerful new leading indicators
Want a structured and practical design framework for making tough/impossible-to-measure KPIs measurable

Time to give yourself an unfair advantage
The practicalities of performance measurement are tough. You need to gather good quality data, analyse it and distribute it to decision-makers.
Because it's hard, it is tempting to focus your time and effort on readily available KPIs, such as revenue or customer satisfaction, while neglecting the more complex and intangible ones, such as customer intent, innovation, or disengagement.
What if you could measure what you really want and need to know?
This course, centred on the Holmes Method, gives you a three-step method to make things that appear to do just that.
Learn how to make the unmeasurable, measurable.
What is included...
Delivered through our reliable elearning platform you work through the course using a web browser, or using your iPhone or Android smartphone (requires the 'teachable' app and a free teachable account).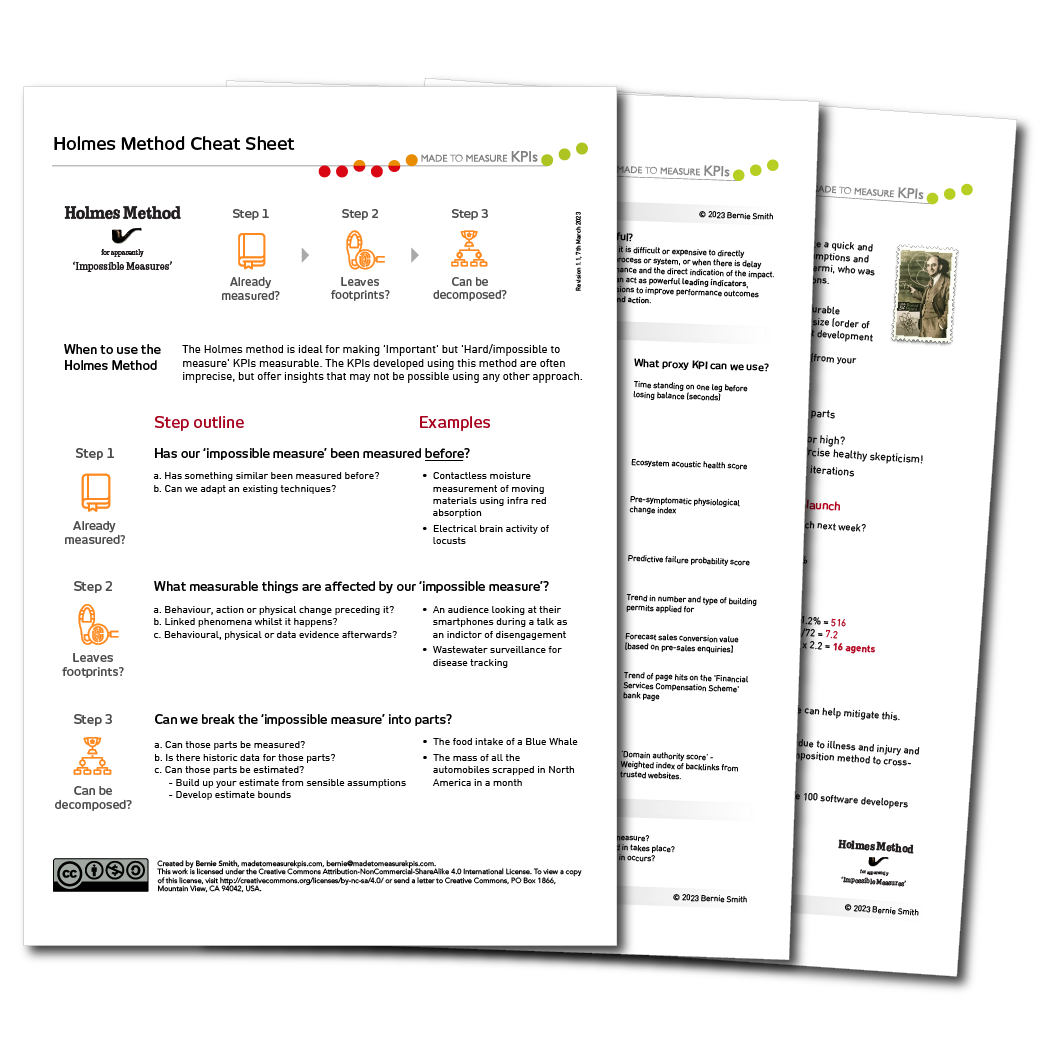 Three clearly designed expert cheat sheets concisely summarise the three steps of the Holmes method, with detailed extra sheets on two of the process steps.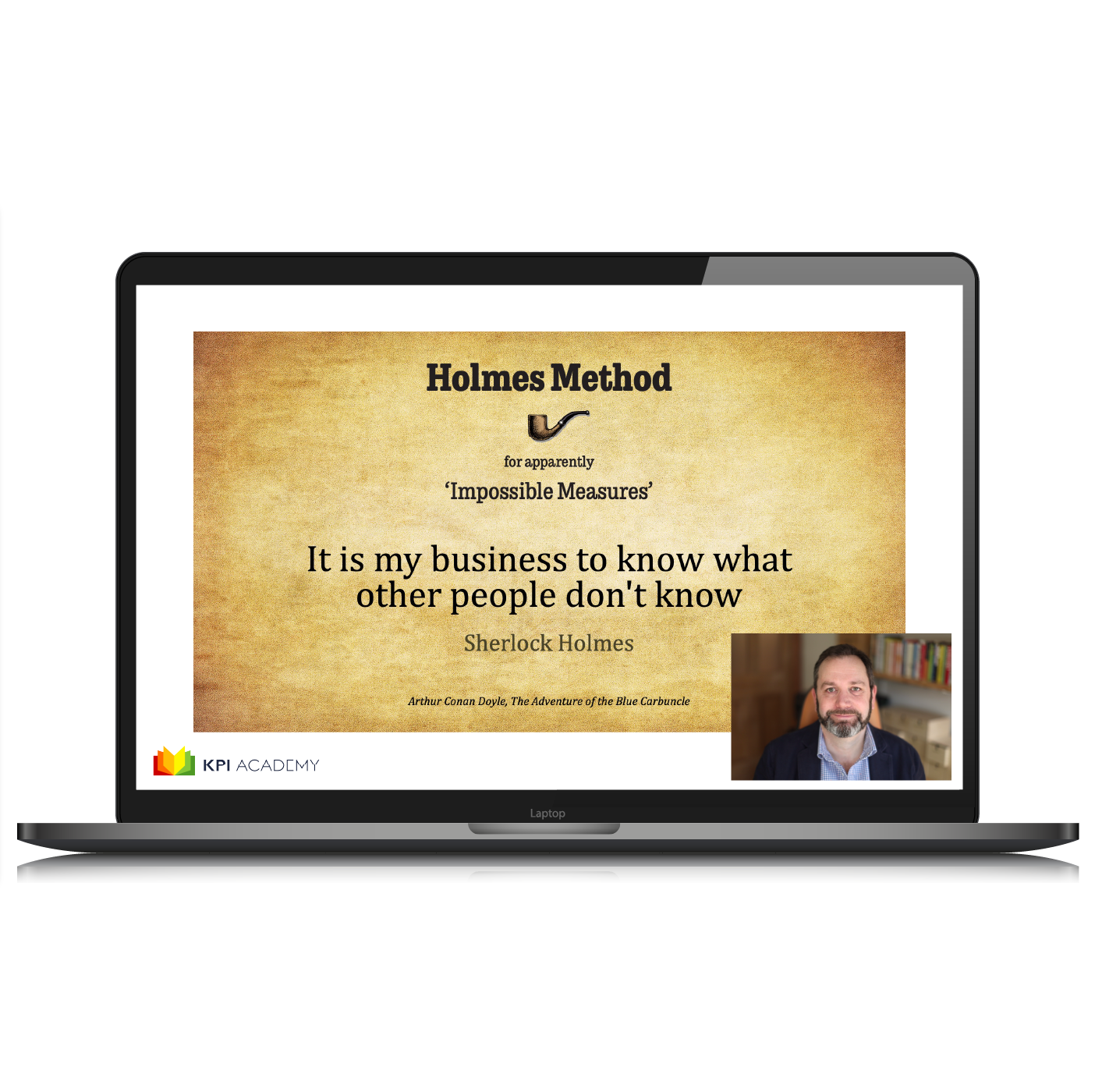 The 50 minute course is split into 11 bite-sized chunks. Each module is delivered by Bernie Smith, inventor of the Holmes Method, KPI author and consultant with over 25 years of practical performance measurement experience.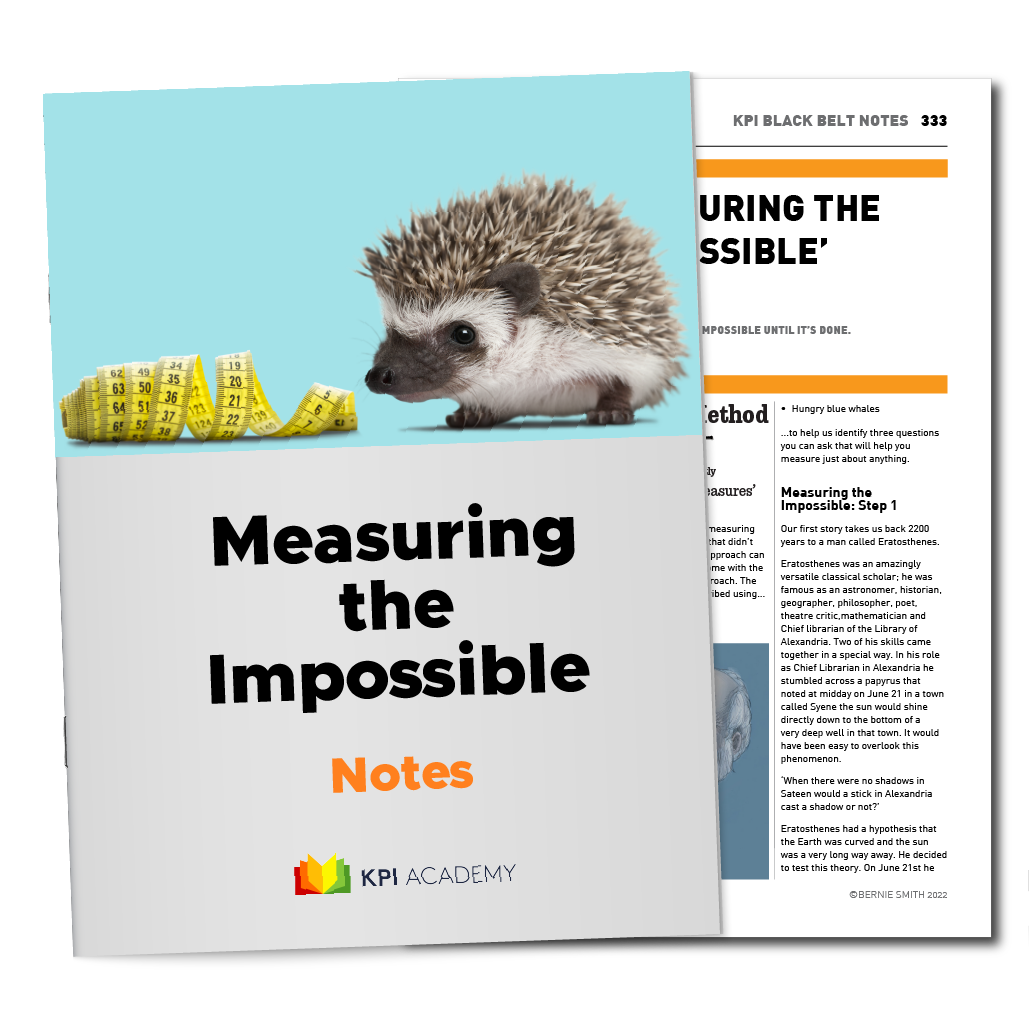 Revisit the details of the stories from the elearning course and refresh your memory with the summary pages of the slides used.

Learning objectives
The goal of the course is simple. You will learn a powerful three-strategy approach for measuring important KPIs that appear to be 'impossible', or very difficult to measure.

About your tutor
Bernie is a highly experienced performance measurement consultant, trainer, speaker and best-selling KPI author. Convinced that there are many lifetimes of terrible KPIs that need fixing, his mission is to share sensible, easy to understand methods with as many people as possible to improve the quality of management information being used around the world.
His ideas have shaped the world of performance measurement and can often be seen referenced, reused and rebadged by others in the field.


Become a Certified ROKS Specialist

How does certification work?
Completion of all of the online-learning lessons
Passing course module knowledge quizzes (70% or more, five attempts)
A course badge will be emailed to you
Your name will be entered on ROKS Specialist web page to proved that you have graduated your course

If you would rather not be listed, just let us know.

Get your course fees back!
This course is one of 12 modules from the KPI Black Belt Programme. If you love this course and decide to sign up for the Black Belt Programme, we will offer you a discount equal to your course fees for this course (an any other eligible module too).

Satisfaction Promise
We do our best to give you a full and honest picture of our courses, but if you decide, by the end of the fourth lesson, that the course is not for you then you can contact us for a cheerful full refund of your course fees.
Frequently Asked Questions
Are the videos subtitled (close captions)?
Yes, all video modules have English subtitles.

Do I get immediate access to the course on signup?
Yes! Better still, you retain access to the course for as long as KPI Academy exists.
What IT do I need to take part in the course?
To take part in the sessions you will need...
A computer (either a PC or Mac is fine)
Chrome web browser. Others may work, but Chrome definitely works!
PDF viewing software (for example Adobe's free Acrobat Reader, Apple's Preview or Window's PDF Reader)
Can I download the videos?
For copyright protection the videos can only be viewed through your KPI Academy account.
Does Bernie do consulting, in-house training and custom training?
Absolutely! Get in touch using https://calendly.com/bernie-smith/introductory-conversation to set up a free introductory call to explore the options.
What if I find the course is not for me?
If you decide that the course is not for you then you can contact us for a cheerful full refund of your course fees.
What is the cancellation policy?
You can request a full refund at any point up to the end of the first workshop session.
Am I free to use the course materials in my organisation or with clients?
We want you to use your training and course materials to succeed. However, there are some reasonable restrictions on use, these are clearly and simply laid out on this page: https://kpi.academy/p/ip-acceptable-usage