Learn to design and build brilliant Excel dashboards with Bernie
Learn how to rapidly create simple, clear and easy-to-understand dashboards using just Excel (no plugins, Visual Basic, macros or subscriptions).
In this three-hour course we cover the simple rules of clear, understandable report design, introduce you to the powerful 'Brilliant Excel Dashboards Kit' and show you a full dashboard design and build, using the full included kit. With a little practise you will find that you can create robust, good-looking and easy to maintain dashboards five time faster than starting with a blank sheet.
This course is presented by Bernie Smith, leader in the field of KPI design, dashboard design and best-selling author (just type 'KPI' into Amazon to see his books).
This course includes...
Three hours of self-paced expert tuition
The full Brilliant Excel Dashboards Manual PDF download
The Brilliant Excel Dashboards Template pack
The Brilliant Excel Dashboards Sample dashboards pack
This highly practical course is for anyone who...
Wants to understand the principles of good dashboard design
Needs to apply solid design principles to rapidly build impressive Excel dashboards
Wants low maintenance dashboards, free of Visual Basic macros, plugins and 3rd party software solutions.
Needs to build Excel dashboards fast
Wants to look like a reporting rock-star
This course is on-demand, so you can get started as soon as you enroll. Personal coaching, feedback and support is available at a special rate during the checkout process.
Who this is for...
Anyone who likes the idea of building dashboards that are consistently incredibly easy for readers to understand, quick to build using just Excel (no VB or plugins), easy to maintain and will make you look like a reporting rock-star.
Do I need advanced Excel skills?
No, all you need is a basic Excel skills such as...
copy, paste
alter text in cells
save and rename workbooks
Everything else you need is explained in the course. Bernie is always on hand by email, if you get stuck. If you are looking for extra support, this is available at a special rate as an add-on during checkout.
We have a 100% satisfaction money-back guarantee (within 30 days of purchase)
Course content
Hit the lessons marked 'Preview' to get a flavour of the course.
Available in days

days after you enroll

Design principles - What makes a dashboard easy to read?
Available in days

days after you enroll

Designing and building brilliant Excel dashboards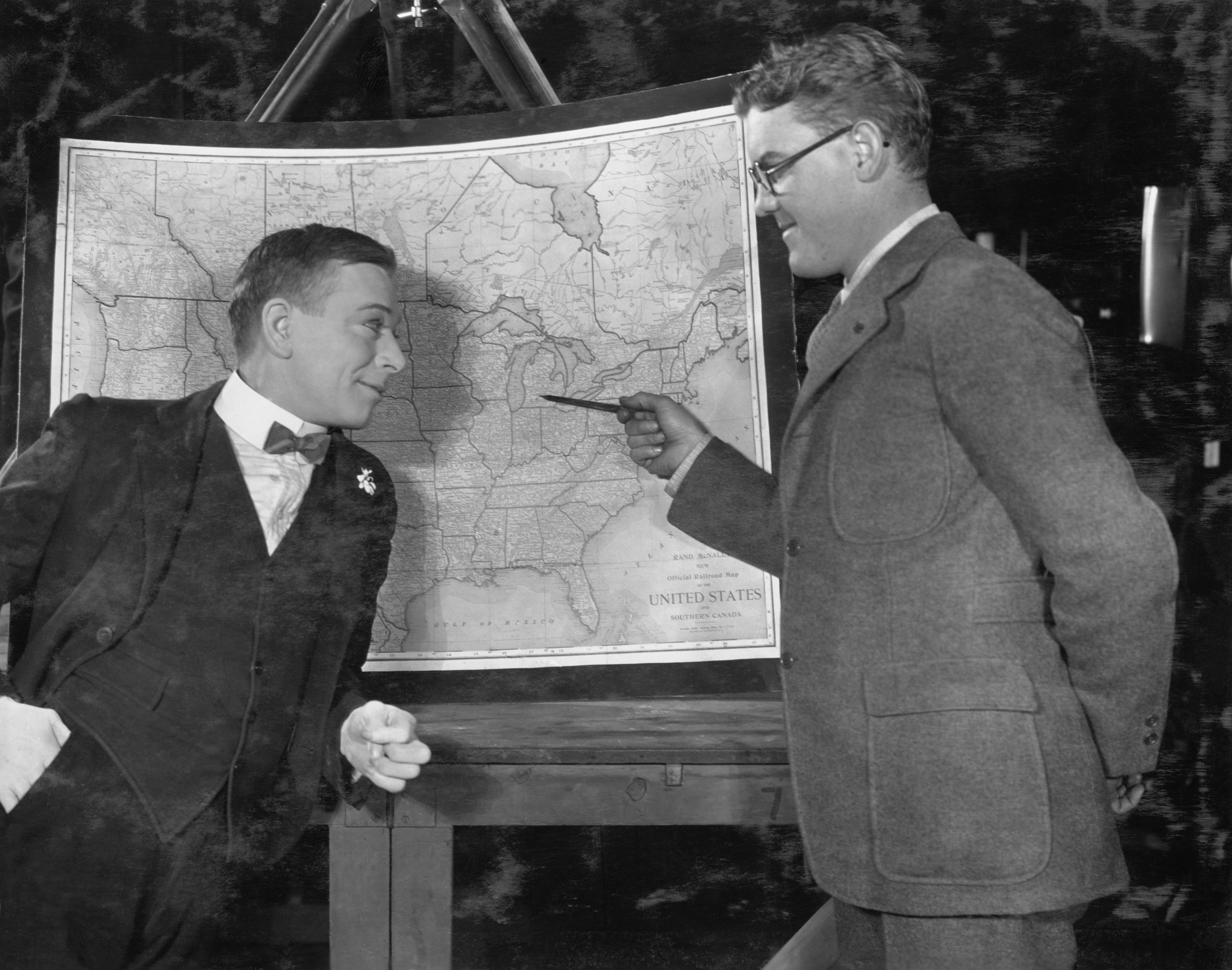 Bernie runs through prototyping and building a fully working dashboard for an example company - Chaos Coffee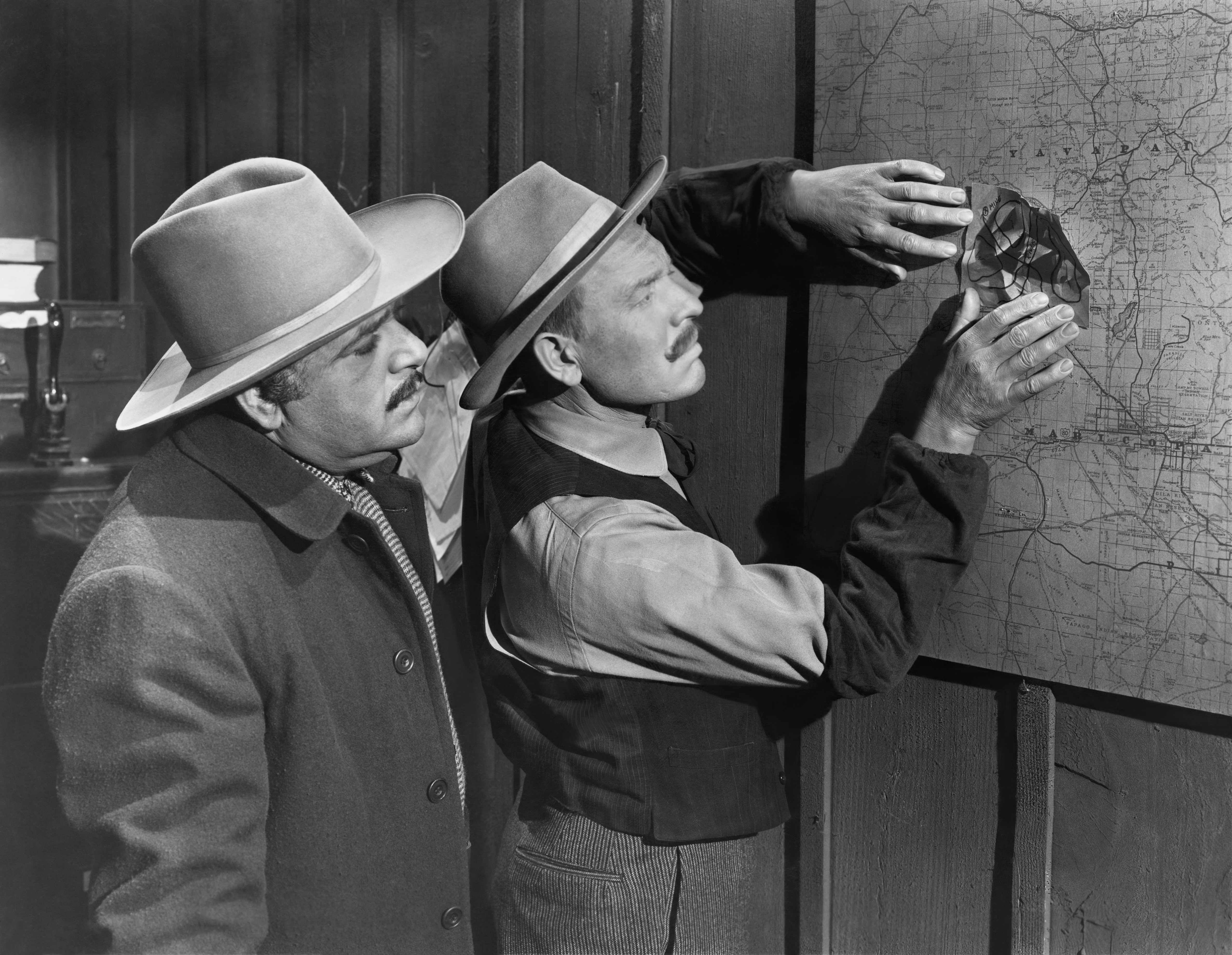 Each graph type, and when to use it, is explained in simple terms as Bernie prototypes and builds the dashboard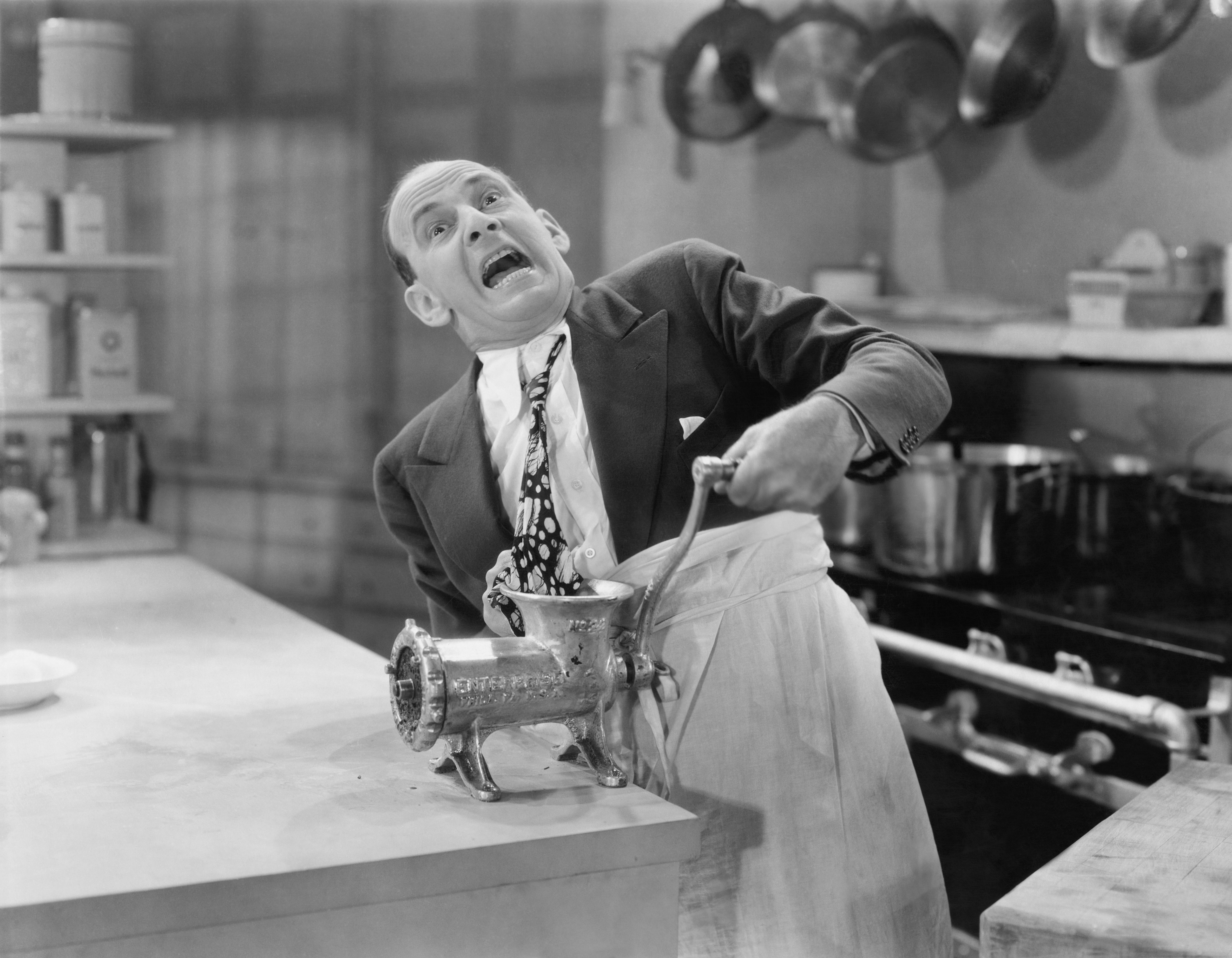 Sensible advice on Excel short-cuts and techniques which will help you with prototyping your dashboards
The full
Brilliant Excel Dashboards Kit
included with this course...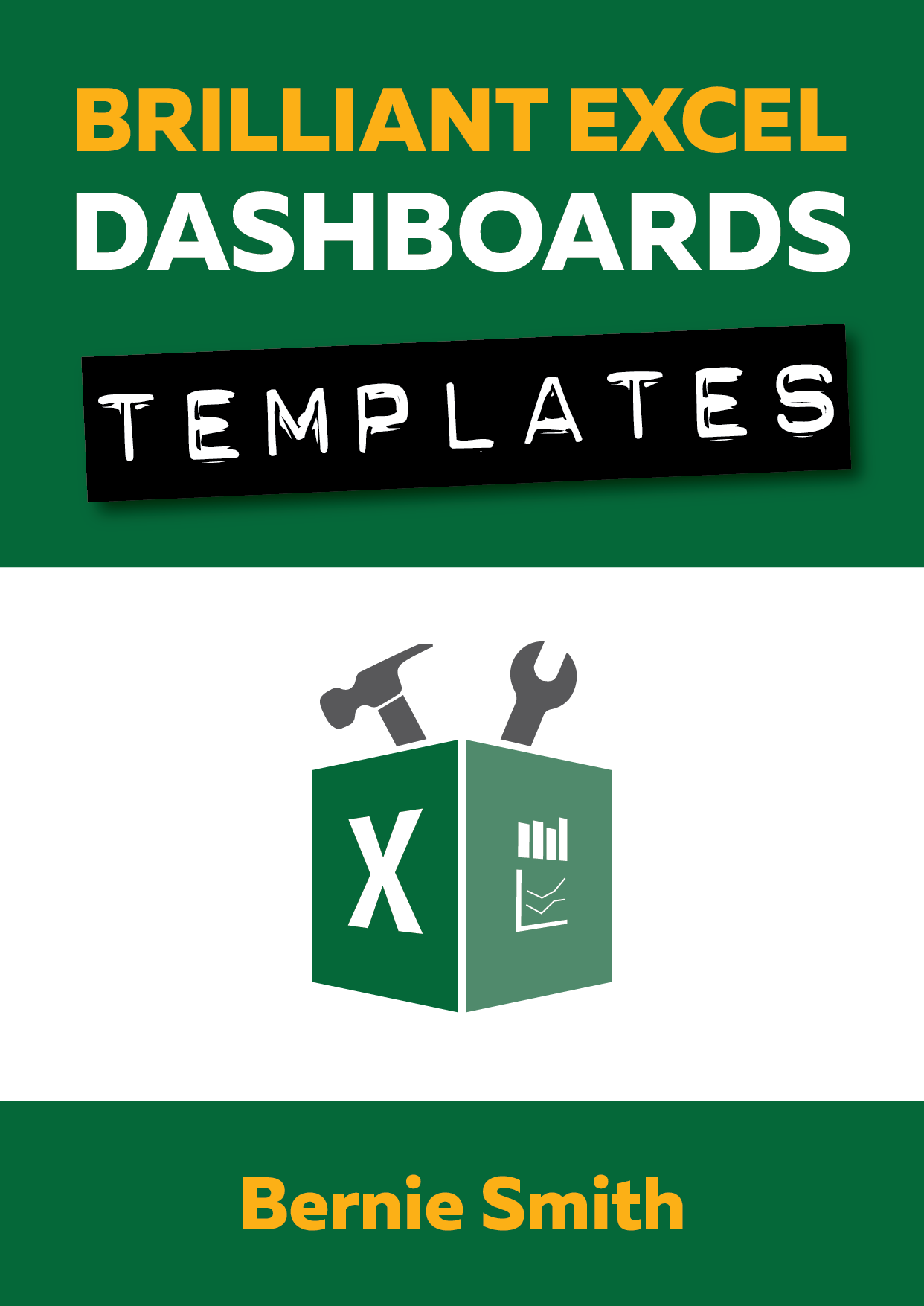 Includes: Brilliant Excel Dashboards Templates Pack
The Dashboard Foundation Pack is the heart of the Brilliant Excel Dashboards Kit. The template kit enables you to create profession-looking dashboard prototypes in minutes. By using the pre-built chart and commentary designs in the Prototyping Guide and Toolkit, you can be confident that the final approved designs will be perfectly compatible with the Excel Template Foundation Pack (included). This pack enables you to build fantastic, easy-to-understand working Excel dashboards at least five times quicker than building a dashboard from scratch.
The finished dashboards don't just look fantastic, they are designed from the ground up using BlinkReporting method of chart design to give the reader the most rapid possible understanding of the information within the dashboard. The BlinkReporting approach applies cognitive-science-based design approach in an easy-to-use package.
Details of included templates...
Prototyping Guide and Toolkit
Prototyping A4 Canvas
Prototyping A3 Canvas
Prototyping Letter Canvas
Prototyping Tabloid/Ledger Canvas




...and...
Six high-quality Excel dashboard template kits (as .XLSX files*)
Monthly Dashboard Template Foundation pack - UK date format
Weekly Dashboard Template Foundation pack - UK date format
Daily Dashboard Template Foundation pack - UK date format
Monthly Dashboard Template Foundation pack - US date format
Weekly Dashboard Template Foundation pack - US date format
Daily Dashboard Template Foundation pack - US date format
*All templates require Microsoft Office 2016 or later.
Watch Bernie prototype and build the Chaos Coffee dashboard, explaining every step, technique and short-cut . Learn how to build a dashboard five times faster and with extra confidence and a better finished product.
Full demo
Bernie runs through prototyping and building a fully working dashboard for an example company - Chaos Coffee
Chart types explained
Each graph type, and when to use it, is explained in simple terms as Bernie prototypes and builds the dashboard
Practical tips
Sensible advice on Excel short-cuts and techniques which will help you with prototyping your dashboard
Watch Bernie take a simple list of KPIs and...
Build a prototype dashboard, then...
Build functioning Excel dashboard, using the Brilliant Excel Dashboard tools.
Bernie's never going to make it as an actor, but he does know his stuff when it comes to Excel, dashboards and building them quickly.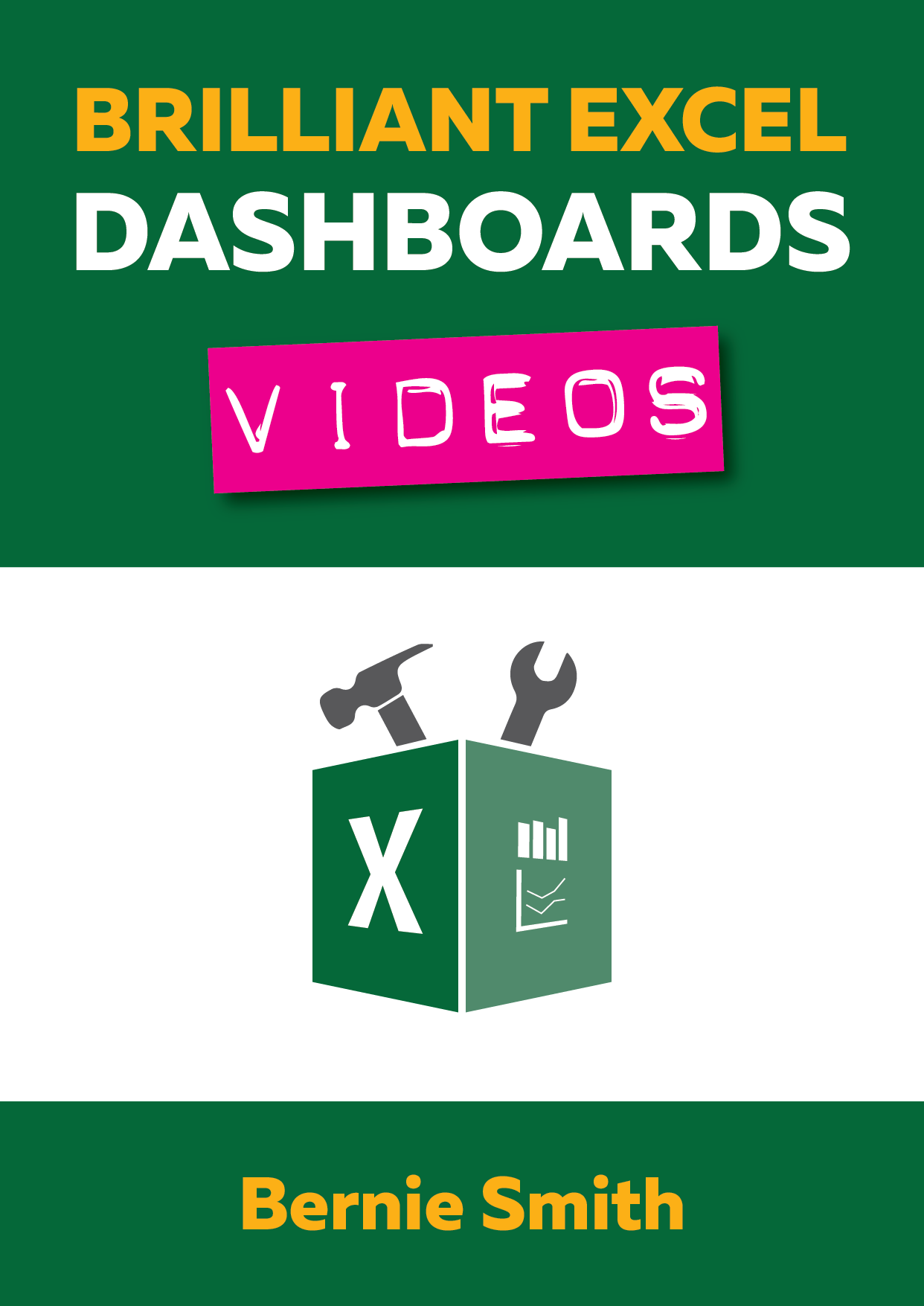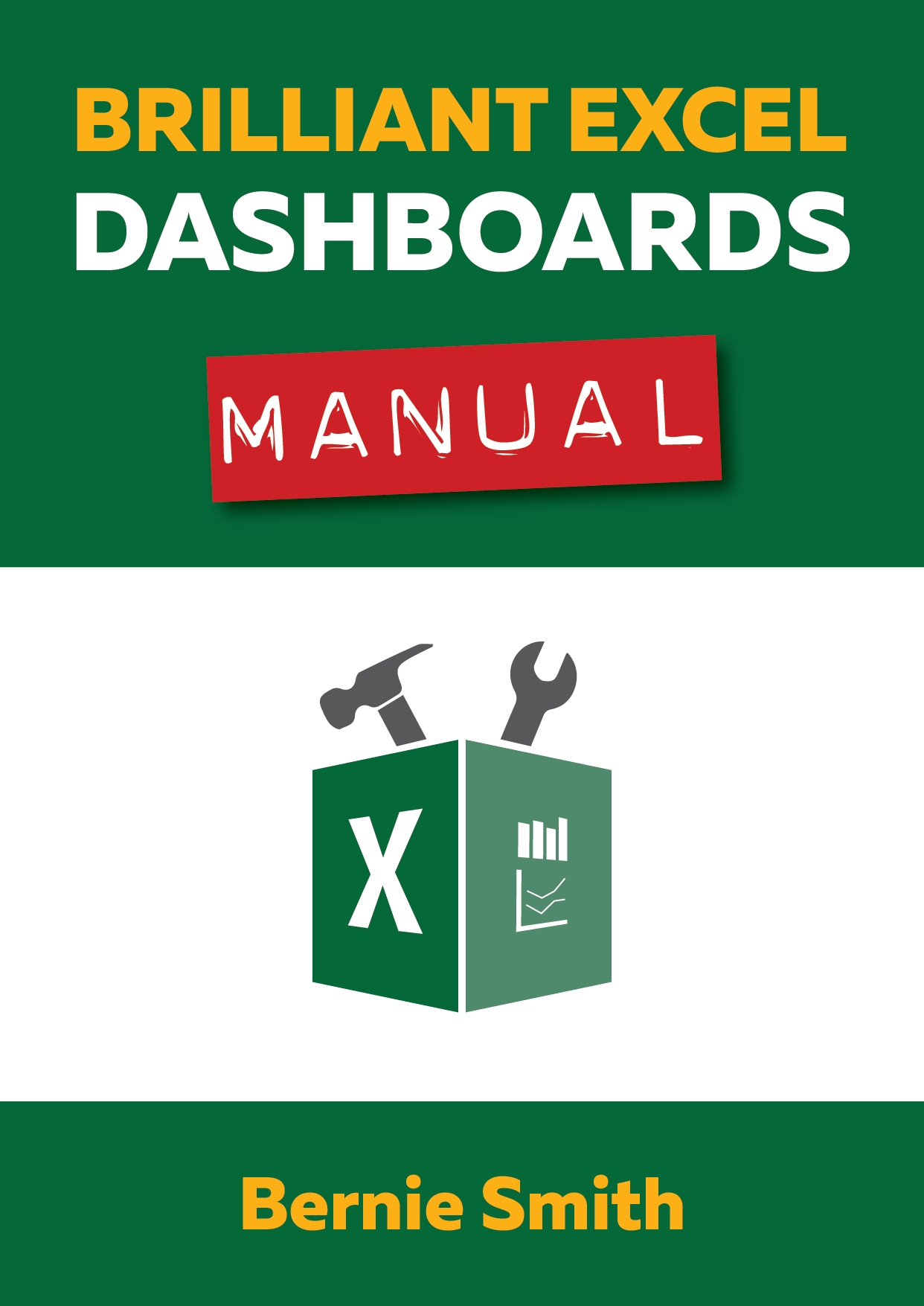 Printable guide to the Brilliant Excel Dashboard Approach
There are many good books on how charts and dashboards should be designed, but little practical guidance on applying those design rules to Excel. This book bridges that gap, introducing the science-based principles of designing documents for easy understanding and the ground-breaking BlinkReporting™ approach for implementing those techniques in Excel.
Step-by-Step Examples
Step-by-step examples show how you can create brilliant, clear and useful reports and dashboards. (Examples are for Excel 2016)
The Science of Understanding
Learn about the science behind the design principles, enabling you to understand a tweak the approach to really me your target audiences specific needs.
Brilliant Excel Dashboards Samples Pack
The Pre-Built Dashboard Pack includes three complete, fully working, dashboards. The dashboards have been built using the Brilliant Excel Dashboards System and you are free to modify and alter them however you see fit (but not resell the originals or modified versions).
Each Pre-Build Dashboard comes with two files...
The PowerPoint prototype version for rapid reworking of prototype design to meet your needs.
The fully working Excel dashboard, with on-page design notes.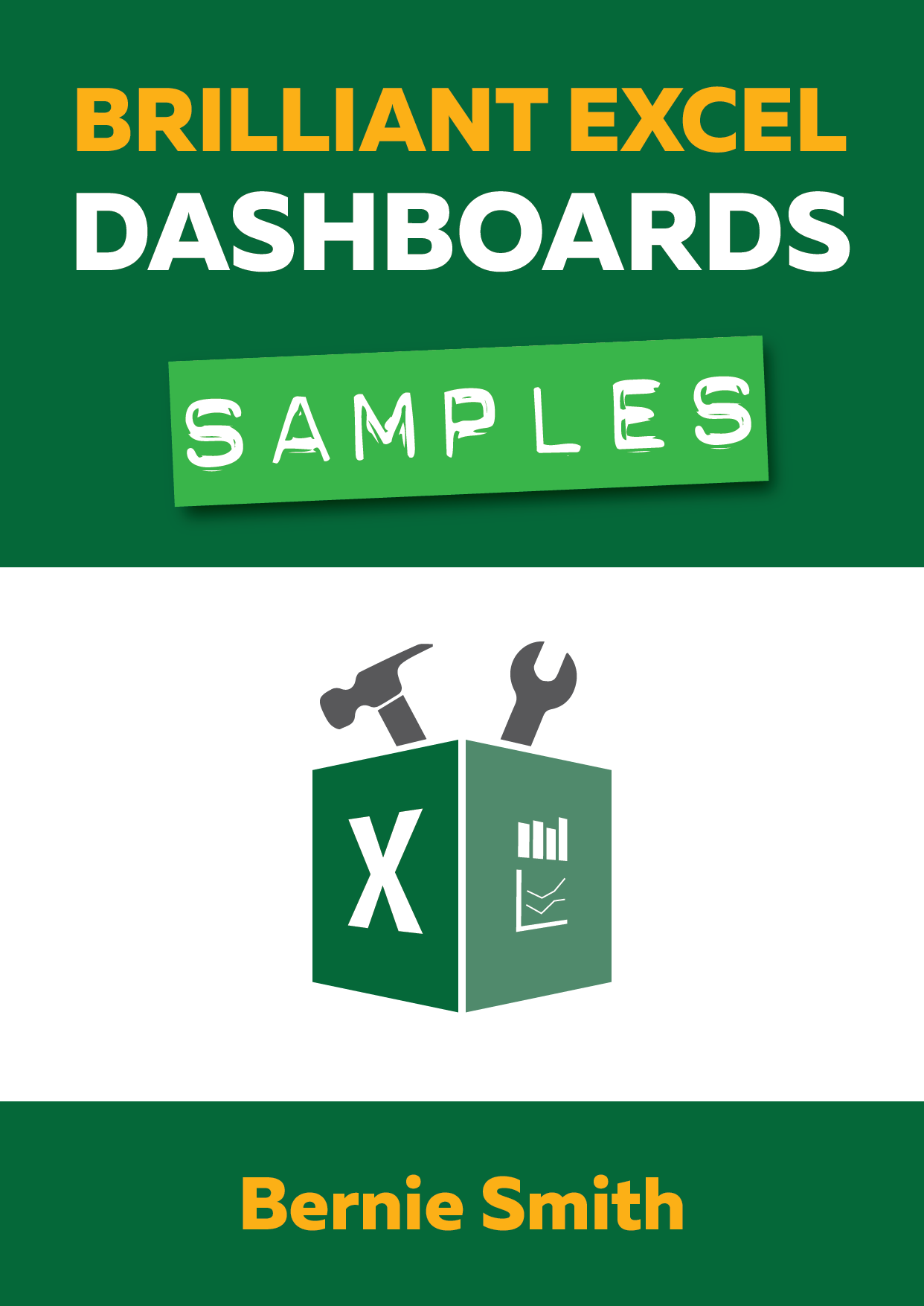 Three fully-functional sample dashboards included...
Review, use or adapt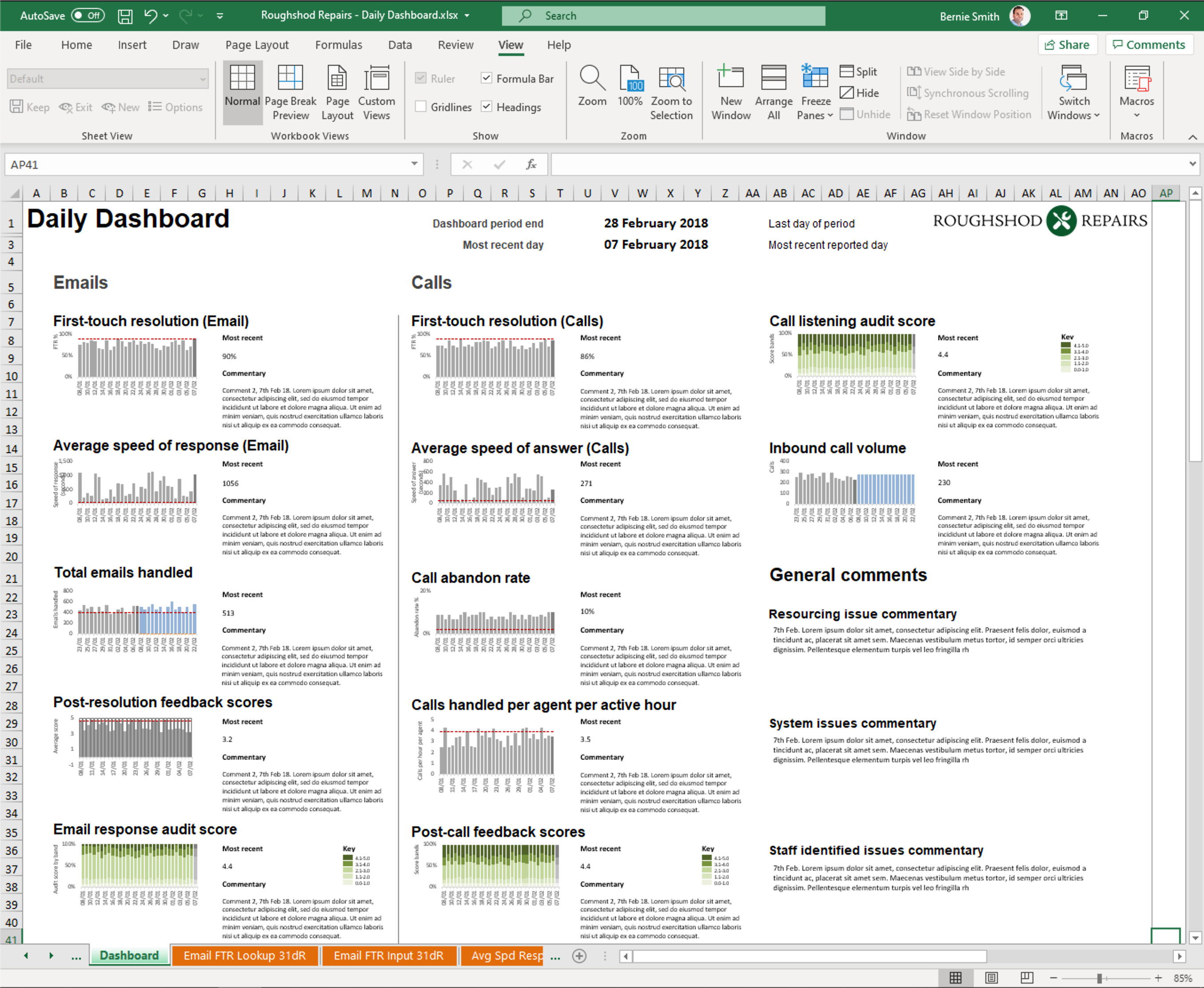 Roughshod Repairs Contact Centre - Daily Operational Dashboard
Roughshod Repairs run a small contact centre and like to have a daily operational dashboard to tell them how they are coping and to review expected volumes for the coming days.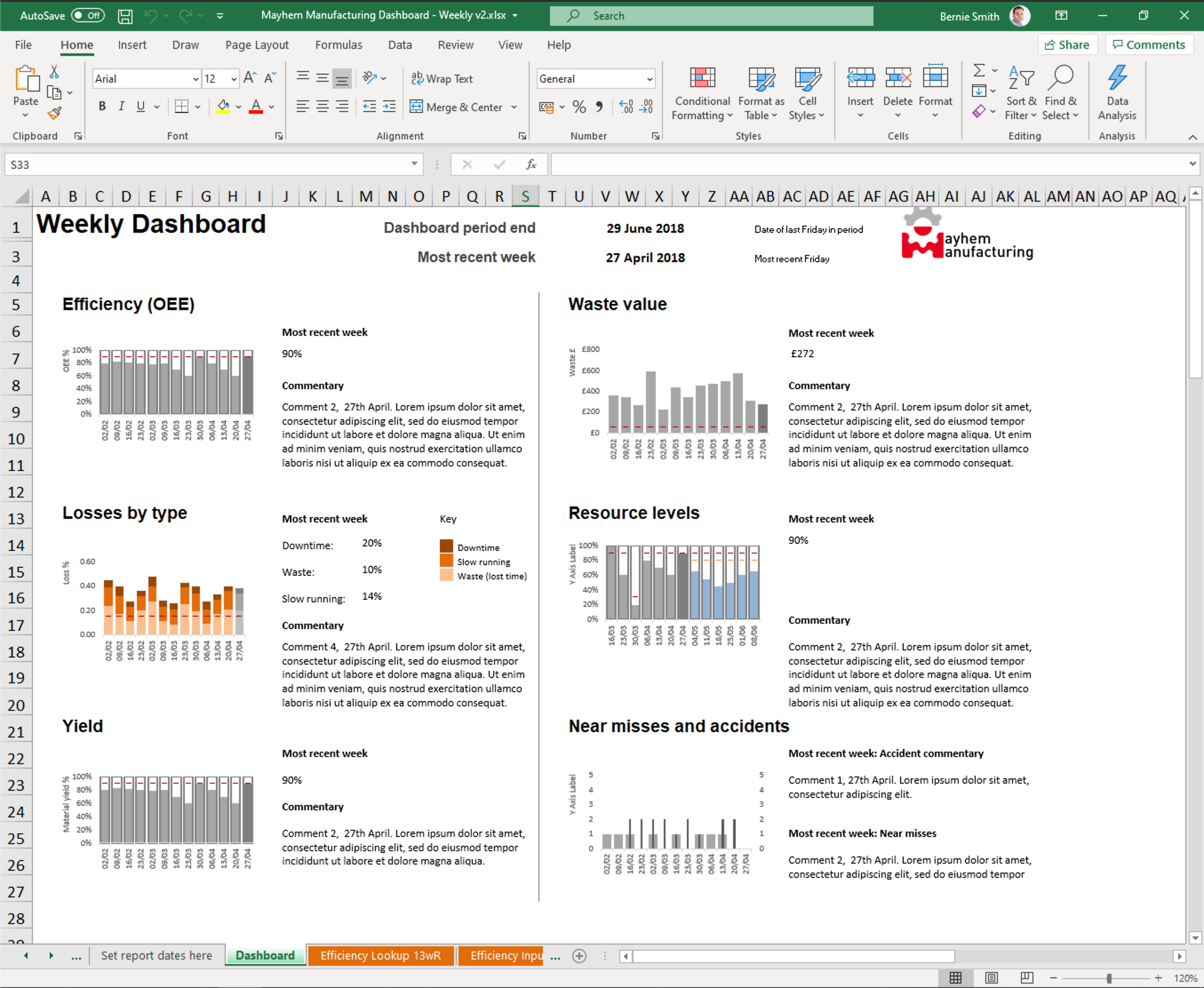 Mayhem Manufacturing - Weekly Production Dashboard
Mayhem manufacturing have a weekly operations meeting. This dashboard provides all essential discussion points for that meeting.
The Cat Herding Society - Monthly Performance Dashboard
The Cat Herding Society, an independent charity, have built a monthly dashboard to review donations, fund-raising performance and costs.
About your tutor
Bernie is a highly experienced performance measurement consultant, trainer, speaker and best-selling KPI author. Convinced that there are many lifetimes of terrible KPIs that need fixing, his mission is to share sensible, easy to understand methods with as many people as possible to improve the quality of management information being used around the world.
His ideas have shaped the world of performance measurement and can often be seen referenced, reused and rebadged by others in the field!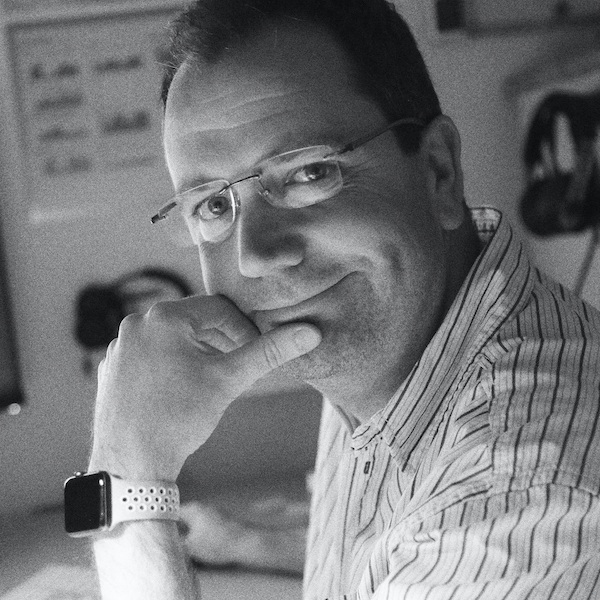 Become a Certified ROKS Specialist
How does certification work?
Completion of all of the online-learning lessons
Passing course module knowledge quizzes (70% or greater, five attempts)
A course badge will be emailed to you
Your name will be entered on ROKS Specialist web page to proved that you have graduated your course
If you would rather not be listed, just let us know.



Frequently asked questions
Q: Does the Brilliant Excel Dashboard Kit work with Microsoft Office for Mac/OSX?
A: Yes! As the kit is pure Excel, with no macros, plugins or VB, the kit works perfectly with the current Mac Microsoft Office Suite.
Note: It has only been tested on Mac Excel versions 2016 and later.
Q: Are there any usage restrictions on the included templates?
A: The templates are supplied under the Creative Commons Sharealike license 4.0 . Here's a summary...
This template is covered under the Creative Commons Attribution-NonCommercial-ShareAlike License. This license lets others remix, tweak, and build upon my work non-commercially, as long as you credit me and license the new creations under the identical terms. Full details live here: https://creativecommons.org/licenses/by-nc-sa/4.0/
Q: Does the dashboard kit place nicely with US and UK date formats?
A: Yes! You get two versions of every Excel template, clearly marked as US or UK date format. Don't forget to make sure your system date format is set correctly!
Q: Are the spreadsheets in the templates easy to maintain?
A: The entire kit is designed for easy maintenance...
Data entry is separated from charts and print areas
Data does not need to be entered sequentially - just put it on the Data Input Sheet and the kit will sort the data for you.
Your entire dashboard is re-ranged using a single input. No more dragging ranges, copying or pasting.
There are no complex scripts, add-ins or code, just formulas and charts.
Q: Do you offer customisation services?
A: Yes, drop us an email at [email protected] to set up a quick (free) discussion of your needs.
Still have a question?
Drop Bernie an email [email protected]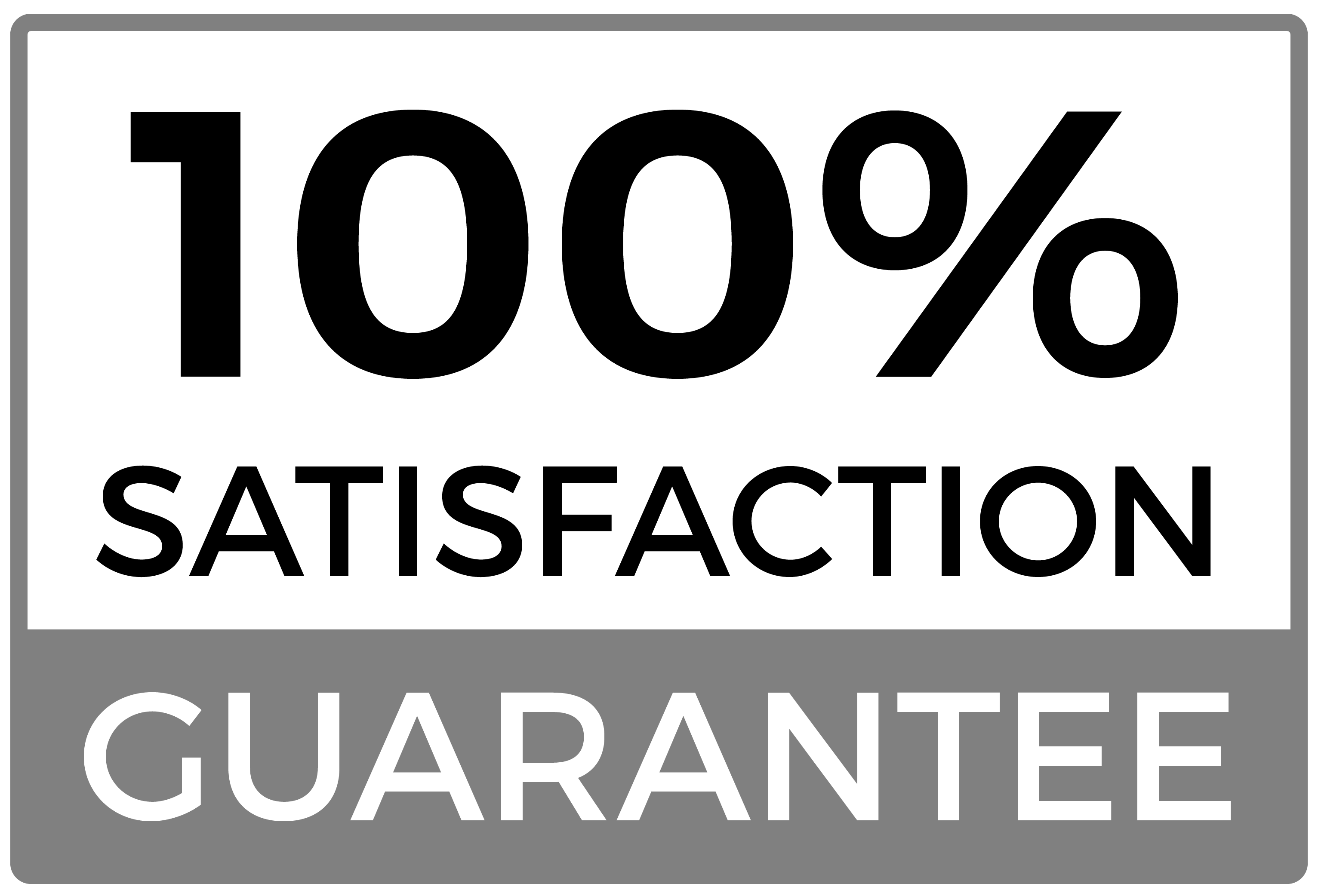 If, after completing the course and following the notes, you do not feel that the Brilliant Excel Dashboards Kit has made your dashboard building significantly faster and better – then contact me for a full and courteous refund.
Refunds can only be issued within 30 days of your purchase.
Looking for help choosing and defining your dashboard KPIs quickly?